If you frequent websites like Reddit or Imgur, you get to see the latest fads on the web. Images that will soon be all over the internet, made into memes or just shared because they entertain and amaze, usually get their first showcase on sites like these. For 3D Street Art, the internet's best sharing aggregates are the best conduit of publicity.  The subfield of street painting is getting more attention than it ever has before.  Here are some of the best works, yanked from around the world:
Someone's a fan.
Reminds me of Indiana Jones and the Last Crusade.
In the words of one Imgur user, "What's real and what's not?!"
This one is my personal favorite.  The artist has to appreciate the car's choice of parking on the left.
Epic Lego collection.
Dante's Inferno?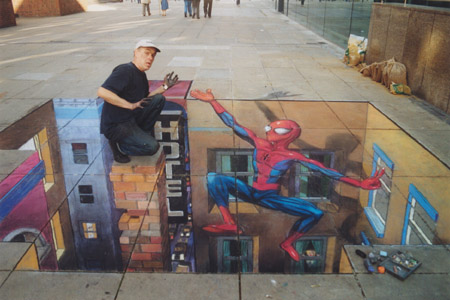 Superheroes never fail to impress.